Forex World - BDO Remit: Christmas Raffle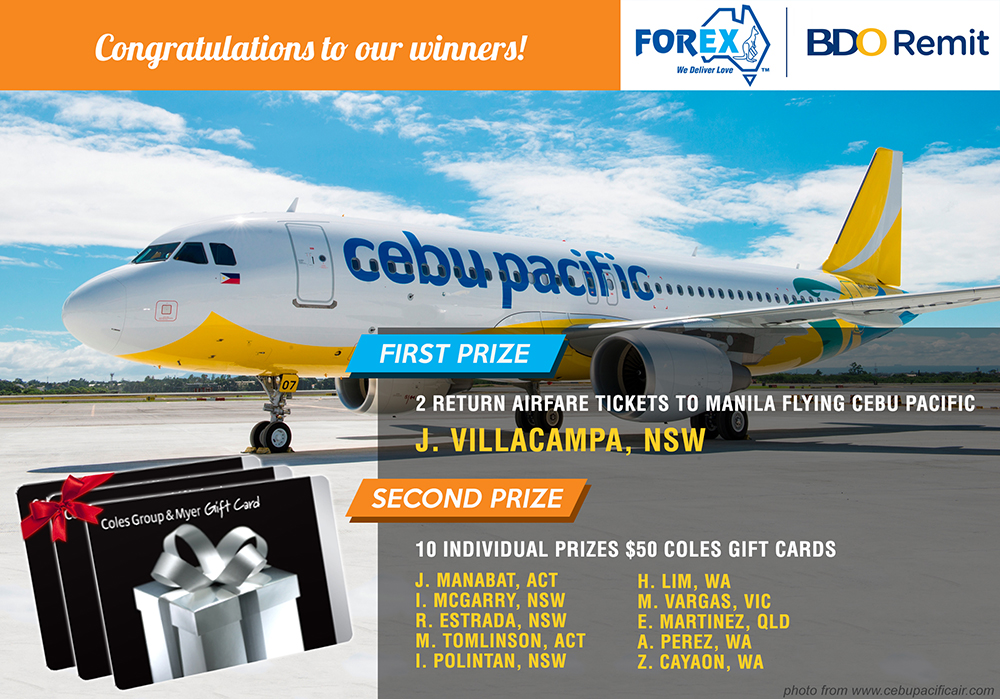 First Prize Draw Winner
J. Villacampa, East Ballina, NSW
Second Prize Draw Winners
J. Manabat, Higgins, ACT
I. McGarry, Primbee, NSW
R. Estrada, Muswellbrook, NSW
M. Tomlinson, Higgins, ACT
I. Polintan, Bellevue Hill, NSW
H. Lim, Meadow Springs, WA
M. Vargas, Corryong, VIC
E. Martinez, Cannonvale, QLD
A. Perez, Success, WA
Z. Cayaon, Broome, WA
Forex World and BDO would like to congratulate all the winners of the Forex World-BDO Remit Christmas Raffle. Well done and thank you for participating in this raffle event.
Numbers were drawn by a representative of BDO on February 1, 2017.
Promo Details
Get a chance to win amazing prizes when you send your remittance with Forex World using any BDO transaction. You automatically enter when you send money through Forex World to your loved ones using BDO Remit Credit to Account or BDO Cash Pick Up. Every BDO transaction you make is one valid entry. Because every transaction is 1 valid entry, this means the more times you send, the more entries and more chances you have to win!
• Every transaction using any of BDO's remittance services will be considered one raffle entry to this Christmas promotion.
• Promo ends January 31, 2017. Raffle will be drawn February 1, 2017.
• Cancelled transactions are not eligible to win.
Terms & Conditions