Special Promos

Save your loved ones from the hassle of picking up remittances. Remit to BDO Kabayan Savings!
No more reference numbers needed. Send money straight to your beneficiaries' account!
Fast receipt of remittance!
Withdraw anytime from over 17,000 ATMs nationwide, 24/7.
Safe. No need to carry huge amount of cash. Just withdraw the funds needed.
Monitor remittances and savings easily.
Free life and accident insurance for qualified remitters*.
*To know how to register in free life and accident insurance, visit www.bdo.com.ph, and click free life and accident insurance under Remittance Services.
Picking up remittance at BDO Unibank in the Philippines?
Tell your beneficiary to open a BDO Kabayan Savings! IT'S SO EASY!
Just bring one (1) valid photo-bearing ID, and P100 or USD100 minimum initial deposit.
BDO Kabayan Savings comes with an ATM Debit Card and a passbook!
Your loved ones can now save from your remittances.
Zero maintaining balance if account receives one (1) remittance each year.
Visit any BDO Unibank branch in the Philippines!
Claiming remittance at SM?
Claim it on the first Monday of the month!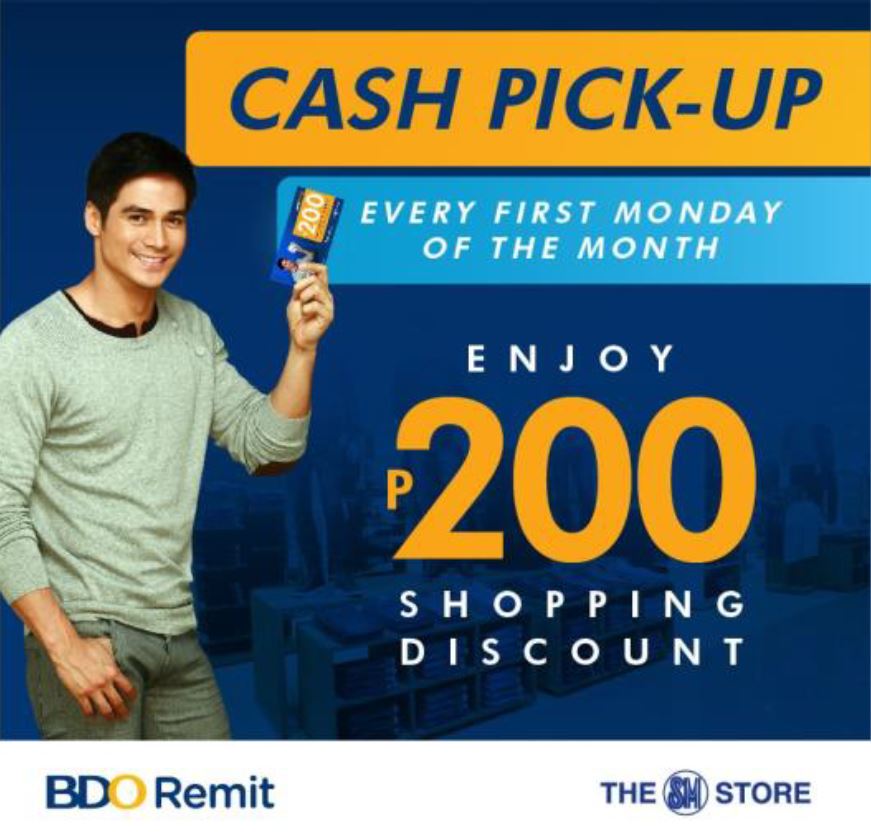 Enjoy a PHP200 shopping discount coupon* for cash pick-up transactions of any amount claimed every first Monday of the month at BDO Remit counters or select BDO Unibank branches in the Philippines! Click here for more details.
*Discount is valid from the first Monday of the month until Sunday of the same week it was issued and applies on a minimum PHP2,000 single-receipt purchase of regularpriced items at The SM Store.
BDO Remit Cash Pick-up Anywhere locations: