Welcome to Forex Boxes
We deliver your Love to your loved-ones in the Philippines
Forex World has been the leader in Cargo to the Philippines from Australia since the 90's. We pick up boxes filled with personal goods sent by generous Australian Filipinos and friends and bound for their loved ones back home in the Philippines where we deliver this to their door. We are proud to be the bridge that bonds families from two separate Nations, which is why we handle each box with care. The contents of these boxes sent by our valued customers are not just a box of items; they are filled with care and love. This is why our slogan says "We Deliver Love". We deliver your Love to your loved-ones in the Philippines.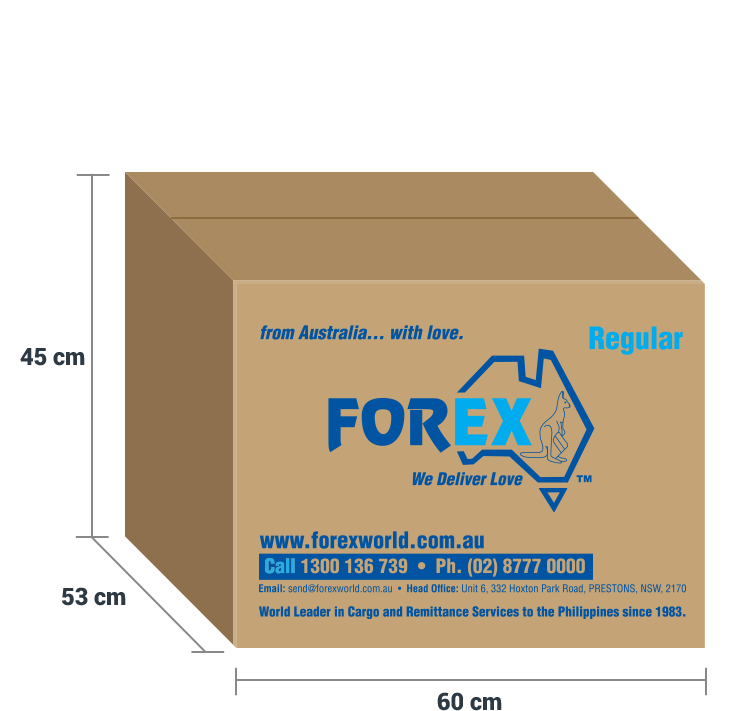 Regular Box
It's been 14 years in the service and still the crowd's favourite. The Regular size box is popular for many reasons, one of which is the practicality of its size. When filling up balikbayan boxes with grocery items, the bigger the size the more you have to buy, therefore the more you have to spend. The Regular size box allows you to send the right amount of goods without being excessive. The flat rate for delivery is also a great feature and means that no matter which part of the Philippines you would like to send a box, there's only one flat fee.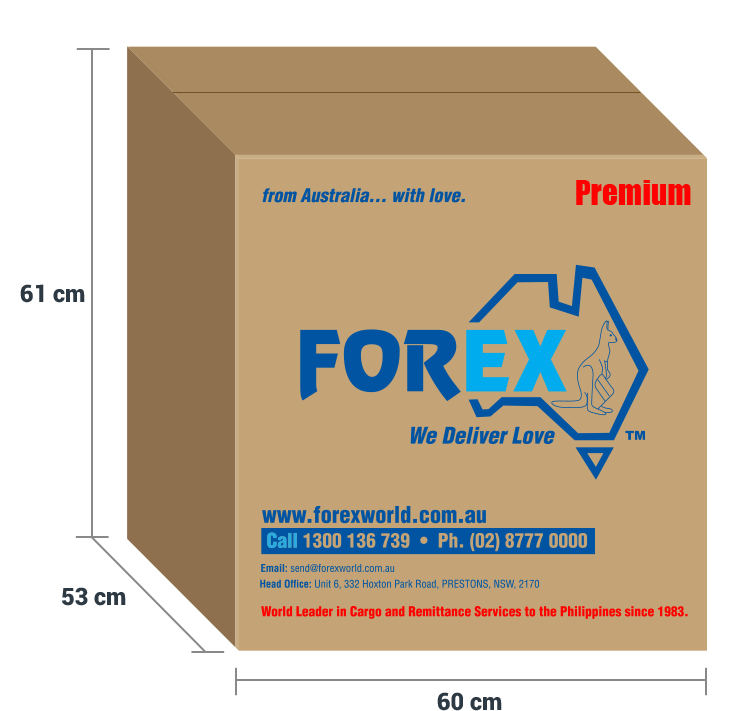 Premium Box
If you are one that li kes to have extra room for those extra goodies, then the Premium Box is for you. Specifically designed to carry the extra weight you may be adding into the box, we use a very high grade of board and originally designed full-folding flap on the bottom of the box to add extra strength. This way your goods are sure to travel safely and arrive as close to its original state as possible. Compare our box to our competitors and you will see a huge difference in quality.
Note: A deposit of $10 per box is required (Regular and Premium Box) prior to or at the time of delivery of empty cartons. This deposit will be deducted from the balance to be paid upon pick up of your Forex Boxes.
Larger-Tougher-Safer (At Forex, We Listen to your Needs!)
Strongest design in the market

Fit bigger items in the box

Four Full Folding Flaps (bottom)

Goodies will arrive at your loved-ones in a great looking package

8 times the strength of a conventional Balikbayan Box
How do we handle your boxes?
One of the strengths of Forex for many years is how we send out your boxes and they are carefully handled by our cargo experts to ensure safe delivery. Here is a video to show you how we handle your Balikbayan boxes that are sent to your loved ones.